TIPS ON WINDOW REPAIR AND REPLACEMENT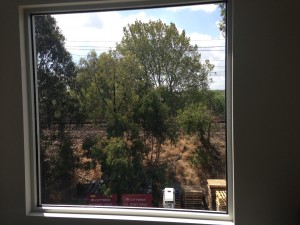 A broken or cracked window is a security hazard.  In addition, it lets the elements in, which can be detrimental to your energy costs and affect the coziness of the space.  Fortunately, this problem can be easily remedied.  You have the option of buying replacement glass and getting it cut to the required measurement at the hardware store or lumberyard.
Repairing a shattered or cracked glass window is a simple repair, particularly if the pane is fairly small.  However, for dual glazing windows or larger panes, it is typically smarter to contact a glass dealer.  Normally, you will need to order a special pane and ensure it is on hand prior to removing the old glass.
If your window is broken or it has another problem and needs to be repaired or replaced, here are some instructions on glass repair and glass replacement:
Cracked Glass
Put on your protective gloves and use a glass cutter to score a tiny arc just beyond the crack; this will prevent the spreading of the crack.  Typically, the crack will not go beyond the arc.  With a chisel, scraper or utility knife, remove the metal fasteners, the old glazing around the pane of the window and the broken pieces of glass.  After which, you can follow the guidelines below:
• Carefully take out the pieces of broken glass.
• For an easy fit, measure the opening and take away 1/8 of an inch from the width and height.
• Use a glass cutter and straight edge to cut the glass or you can get it professionally cut a hardware store.
• Clean the wood around the window, prime it and leave it to dry.
• Place the replacement glass into the opening.
• Glazier's points that are pressed into both sides of the frame can be used to keep the glass in place.
• Use glazing putty to fill in the opening between the frame and the glass.
• After the putty dries, you can do your priming and painting.
Glass Replacement
When a window pane is being replaced, do your best to acquire the same type that was originally installed.  This ensures all the windows in the house will have a cohesive look.  However, for older homes, it is not always easy to find an exact match.  When this happens, try to get something that matches as close as possible to the existing windows.  Carry a piece of glass to the store and ask for a match.
Glass repair and replacement will restore the comfort and visual appeal of your home. Of course we recommend leaving it to the experts at Glass Express.