What Services Does a Glazier Provide?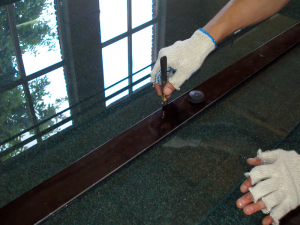 Glaziers, or window fitters as they are commonly referred to, typically offer an extensive variety of window-related services. Although many people consider them the first port of call for new window installations, in reality they can install, repair, maintain and repair all types of glass. If you've found yourself in need of a glass expert, then you may find yourself asking what services does a glazier provide? Here's a look at what they can do to help.
Window installation
One of the most common reasons a home owner may need to get in touch with a glazier, is to have their windows installed correctly. Single panes, double-glazed versions and everything in between can be handled by a glass specialist. They will be able to install frames, align panels, implement rubber insulation and even remove older windows.
Glass replacement
Although uncommon, it's not unheard of for double-glazed windows to 'blow' every so often. This event usually occurs as a result of exposure to excessively hot or cold temperatures – but it can also take place when impacted. In these events, one of the only solutions is to have the damaged panel removed and then replaced with a new pane. A glazier will be able to handle the entire project.
Glass repair
Small cracks and chips might not seem like a huge deal, but if left to grow they can soon effect the integrity of the entire pane. The best way to treat a chip or crack is to have it repaired by an expert. They will typically inject an industrial strength resin to ensure that the glass holds firm, but other options are available depending on the severity of the damage.
Window maintenance
Windows are subjected to a lot of pressure over time – what with aiding in the support of walls, as well as being responsible for holding wind and debris at bay. It's not unheard of for glass panes and frames to require maintenance from time to time and fortunately these are services that glaziers specialise in. Even if a window hasn't suffered with any damage, it's a good idea to have their integrity checked every so often to maximise safety and functionality.
These are just a few of the most common services relating to a window specialist. These experts have some of the most advanced equipment available at their disposal and there aren't many glass related tasks that they can't undertake. Although the material is commonly used within homes, it's never a good idea for an inexperienced individual to handle it, as it can be very dangerous. Instead of running the risk, give a professional a call and have them take care of your needs for you.